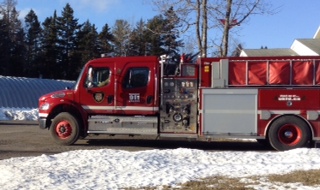 Fire protection for Hanwell is provided by the Upper Kingsclear Fire Dept. Fire Station 2 is located at 2053 Route 640 in a temporary rented garage. The municipal Capital Plan includes replacing this with a modern fire station housing two pumper/tankers. Fire Station 1 is located in Upper Kingsclear.
The Harvey Fire Dept. is the primary responder for the south end of the municipality.
The greatest concern is the need for a good reliable water supply for fire suppression. In fall of 2015 Hanwell Council ordered the installation of three dry hydrants, which, when fully functional, will be tested for the provision of a superior water shuttle service.
A fire protection survey was contracted to Fire Underwriters Survey in the summer of 2015, and the report and its recommendations were received by Council in December 2015.
The completed Fire Study Report can be viewed here.
We invite you to check out the Upper Kingsclear Fire Department web site.
For the NB Forest Fire Watch & burning permissions information check this link:
http://www2.gnb.ca/content/gnb/en/news/public_alerts/forest_fire_watch.html
At the June 26, 2017 Special Meeting of Council the Fire Station contract was awarded to the lowest bidder, King Construction Ltd for the tendered price of $1,025,000.00
We invite you to check out the design and preliminary sketch of the UKFD Sub Station 2