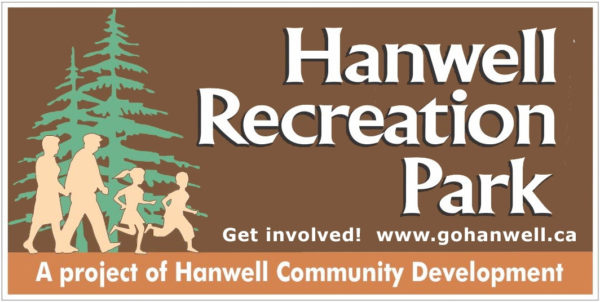 The Hanwell Recreation Park is located at 18 Nature Park Drive (off the Hanwell Road across from the Eaglewood Sudvision).
The kiosk has a map of the walking/skiing trails. 
The park is on leased crown land and is available dawn to dusk for the enjoyment of residents. The parking lot has been recently enlarged on the pie-shaped portion of the property that is still to be developed.
With a generous grant from the Province of New Brunswick, the municipality was able to purchase 30 sets of snowshoes and 8 sets of cross-country skis ranging from children to adults.  This equipment can be picked up at the municipal office during business hours free of charge and must be brought back the following business day.  Mon-Fri 8am-4pm (one piece of ID must be provided, those under 18 must have a parent/guardian with them to pick up the equipment).
Dogs are welcome in the Recreation Park however must remain on-leash until you reach the designated off-leash area (Loop 2 and loop 3 are the only designated off-leash areas).  All other areas of the Park are designated on-leash including the parking lots, the road leading up to the park and municipal grounds, the playground, and Loop 1.  Dogs must remain under their owner's control at all times for the safety of all who enjoy the park.
Refer to map for designated areas.   Designated Dog Area- Map